Alex Ballentine. February 8, 2018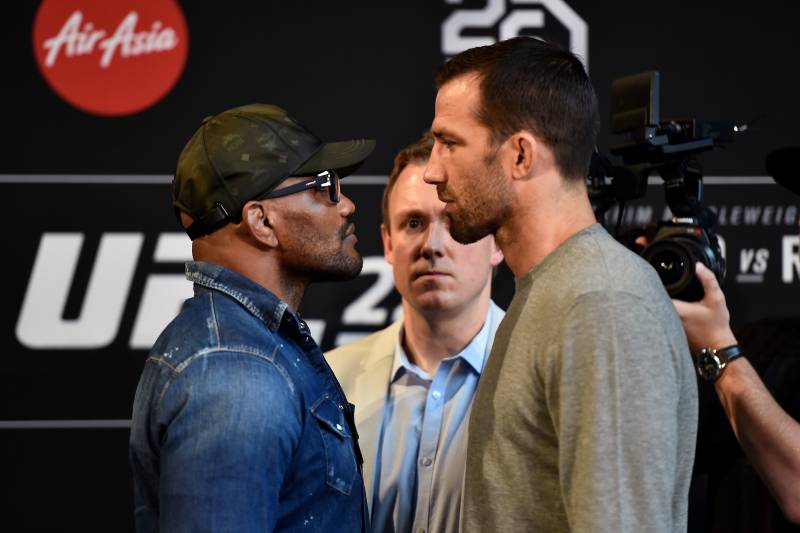 Jeff Bottari/Zuffa LLC/Getty Images
As far as consolation prizes go, it doesn't get much better than the matchup of Yoel Romero and Luke Rockhold as a main event at UFC 221. 
The event was supposed to be anchored by Robert Whittaker's first title defense as the champion of the 185 pound division hit a snag when the champion withdrew from the bout due to illness. Instead the fans will get to see Yoel Romero step in against Rockhold for the interim middleweight title. 
It's a fascinating clash of two of the most interesting fighters in the division with plenty of power between the two of them. 
Outside of the featured middleweight bout, there's a pair of heavyweight fights that feature up-and-comers of a division that has been in the spotlight recently with Stipe Miocic's latest defense of the belt. 
Here's a look at the complete cards along with the latest odds from OddsShark. 
Tickets: StubHub
Main Card (PPV at 10 p.m. ET)
Yoel Romero (+120) vs. Luke Rockhold (-150) – interim middleweight title fight

Mark Hunt (+135) vs. Curtis Blaydes (-165) – heavyweight

Tai Tuivasa (-300) vs. Cyril Asker (+230) – heavyweight

Jake Matthews (+155) vs. Li Jingliang (-190) – welterweight

Tyson Pedro (-280) vs. Saparbek Safarov (+220) – light heavyweight
Prelims (Fox Sports 1 at 8 p.m. ET)
Damien Brown (+130) vs. Dong Hyun Kim (-160) – lightweight

Rob Wilkinson (+235) vs. Israel Adesanya (-305) – middleweight

Alexander Volkanovski (-185) vs. Jeremy Kennedy (+150) – featherweight

Jussier Formiga (-125) vs. Ben Nguyen (-105) – flyweight
Prelims (Fight Pass at 6:30 p.m. ET)
Ross Pearson (-150) vs. Mizuto Hirota (+120) – lightweight

Teruto Ishihara (+175) vs. Jose Quinonez (-225) – bantamweight

Luke Jumean (+115) vs. Daichi Abe (-145) – welterweight
Yoel Romero vs. Luke Rockhold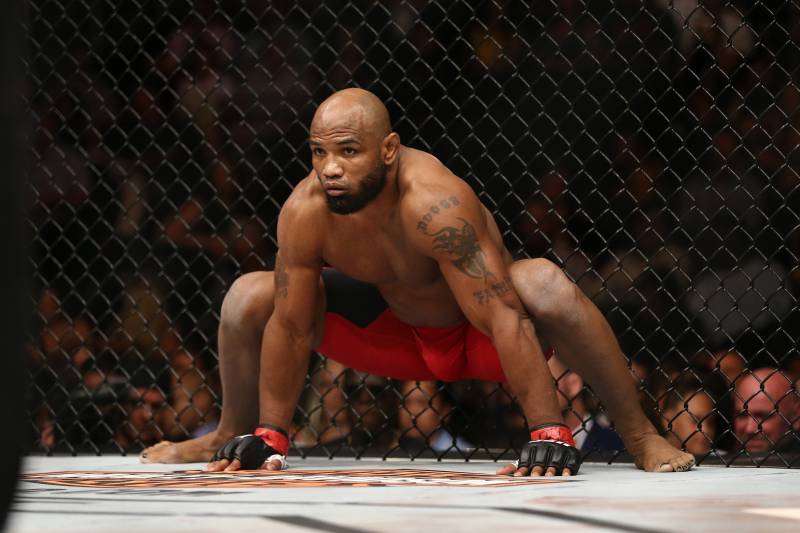 Rey Del Rio/Getty Images
Luke Rockhold and Yoel Romero have been near the top of the middleweight division for years, yet it's one of the matchups we've yet to see. 
It's an exciting development for a division that has been in flux of late. With Michael Bisping's inactive title reign coming to an end at the hands of Georges St-Pierre who then dropped the belt, Robert Whittaker has taken over the title of champion, but the title of best in the division is still up for grabs. 
Rockhold believes that a win propels him to the status of real champion. 
"I have all the respect for him," the former UFC champion said about Whittaker, per Jed Meshew of MMA Fighting. "He's a gangster in this game, but if I beat Yoel and I put him away, who did it better? He had a close fight. That was 2-2 going into the fifth [round]. He showed his championship skill and he pulled through that fifth round. He won. But if I can do it better, who did it better? Who's the best? That's what I plan on doing."
It's a bold statement from the 33-year-old. The California native fought just once in 2017 after losing his belt to Bisping in 2016, scoring a stoppage via strikes against David Branch in the second round. 
Romero also say out most of 2017 as well, but his only fight was a close loss to Whittaker which was preceded by a third-round knockout of Chris Weidman. 
There's a reason the odds are close to a pick 'em in this one. Rockhold brings the more diverse striking game and a polished submission game on the ground while Romero brings the power and dynamic wrestling game that could mean problems. 
In the end, it might come to just how long the fight goes. Romero has five third-round finishes in his UFC career, but struggled to finish the fight strong in his first five round fight against Whittaker. Rockhold, by contrast, has gone beyond three rounds three times in his career, going 3-0.
If Rockhold can get the bout to the championship rounds, he should be in good shape. That's a long time to avoid the sheer power of Romero, though. The knockout loss to Bisping may have been a bit of a fluke, but it showed how hittable he can be at times. 
That's never been a good recipe against Romero.
Prediction: Romero via third-round TKO
Mark Hunt vs. Curtis Blaydes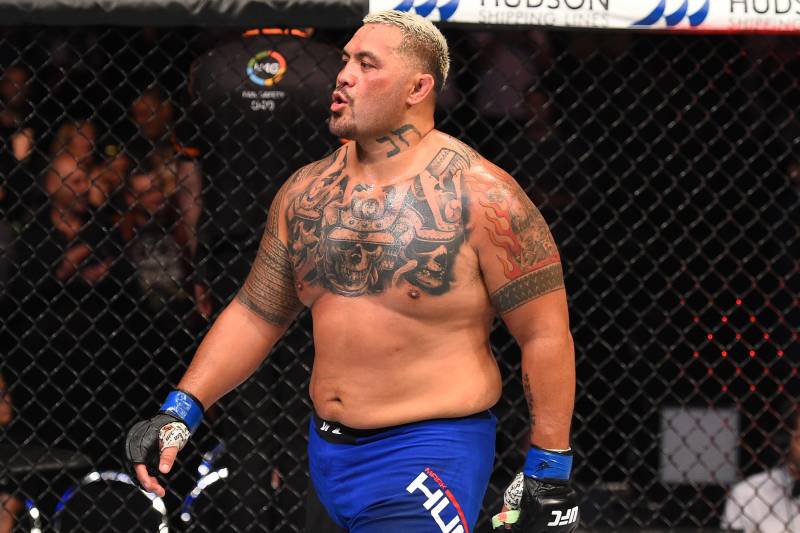 Josh Hedges/Zuffa LLC/Getty Images
The heavyweight division is in dire need of fresh blood. They hype behind Francis Ngannou's rise to a heavyweight title shot is perfect evidence of what can happen when a young heavyweight is merely marketable with good skills. 
Curtis Blaydes may have lost his UFC debut to Ngannou, but the 26-year-old has done nothing but win ever since. 
Blaydes is now ranked No. 9 on the strength of three straight wins and a fourth win that was overturned due to a positive test for marijuana after his second-round TKO of Adam Milstead. 
In the UFC's biggest division and most shallow talent pool, that's enough to be among the hottest prospects. But Blaydes credibility as a future contender in the division will be tested by one of its most experienced gatekeepers in the co-main event. 
Mark Hunt is coming off a win over Derrick Lewis in which he wrecked the Black Beast's hype train with a fourth-round TKO and he doesn't expect to wait that long against Blaydes. 
"I'm knocking his lips off and I don't think he's going to make it out of the first round," Hunt said, per Alex Oates of the Herald Sun. "Who knows? It might make the second round, but he's getting knocked out. All these guys are getting knocked out. (Then) I'm knocking all these cheaters out one at a time."
While Hunt may be dreaming of another late resurgence of his career at 43 years old, this seems like a matchup designed to showcase Blaydes. Razor is an NJCAA national champion wrestler and does a good job of applying that background into his game in the cage. 
Hunt is always dangerous. He's a wily striker who can alter the complexion of a bout with just one strike, but Blaydes ability to work in the clinch, take Hunt down and apply the pressure with his top game is enough to believe he's going to break through in this opportunity. 
Prediction: Blaydes via unanimous decision
Tai Tuivasa vs. Cyril Asker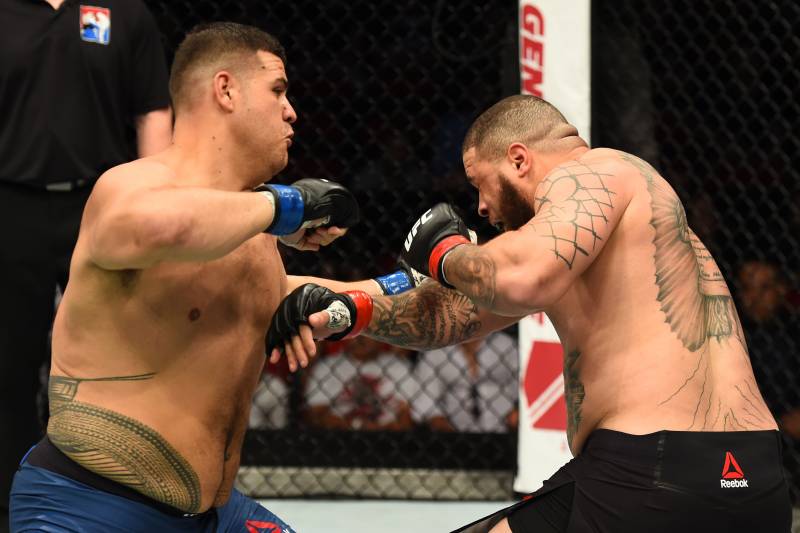 Josh Hedges/Zuffa LLC/Getty Images
Speaking of new blood in the UFC division, Tai Tuivasa is another prospect with a chance to gain some major momentum on Saturday. 
The 24-year-old will be making his second appearance in The Octagon and finds himself right beside mentor Mark Hunt on the fight card. With six wins by first-round finish in six attempts, a win on the big stage of a pay-per-view main card could mean that his fast track continues. 
Asker is 2-2 in the UFC and has settled into the role of early litmus test for young talent. Walt Harris and Jared Cannonier both scored first-round finishes against the Frenchmen while he was able to finish Dmitry Smoliakov and Yaozong Hu. 
Asker should be able to challenge Tuivasa in the grappling exchanges if the fight does wind up on the mat, but that doesn't appear to be the M.O. for Tuivasa. 
Instead, it'll likely be another highlight reel finish for Tuivasa who will be looking to make an impression on the hometown Australian crowd in Perth. 
Prediction: Tuivasa via first-round TKO
---
Article published on http://bleacherreport.com